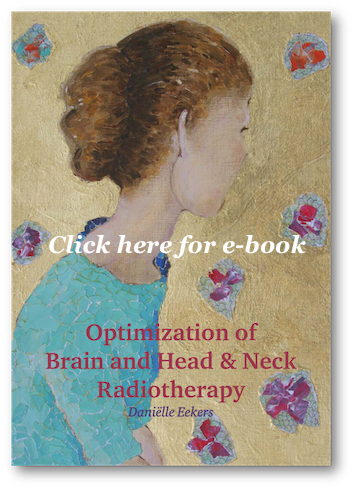 In short
The aim of this thesis is to further optimise radiation therapy of Brain and Head & Neck cancer by reducing the dose to the healthy surrounding tissue, so called organs at risk (OARs), leading to a reduction in side effects.
Different treatment techniques for photon and particle (e.g. proton) therapy are compared for multiple tumour sites. Furthermore, tools for consistent contouring and dose prescription are presented in close collaboration with the European Particle Therapy Network (EPTN).
Curriculum Vitae
D.B.P. (Daniëlle) Eekers, was born on March 1970 in Almelo, The Netherlands, and grew up together with her two sisters Patricia and Pascal in Nijverdal where she completed her secondary education (VWO). In 1996, she obtained her medical degree cum laude at the University of Groningen. Due to the radiotherapy treatment of her close friend, she developed a strong interest in Radiation Oncology. She therefore started her specialisation in Radiotherapy at the RTIL in Heerlen, later called MAASTRO CLINIC.
After finishing her education in Maastricht as a Radiation Oncologist, she further specialised in Neuro-Oncology while working as a staff member at the Verbeeten Institute (BVI) in Tilburg. Thanks to her scientific interest, especially in particle therapy, she joined the MAASTRO CLINIC team again in 2012 and started combining her work as a Radiation Oncologist with working on her thesis within the ROCOCO (Radiation Oncology Collaborative Comparison) project. In this multicentric cooperation, she worked closely together with experienced Particle Centres around the world.
She now combines working at MAASTRO CLINIC with working at the South-East Netherlands Proton Center (ZON-PTC). Using her experience as board member of the Dutch Radiotherapy Neuro-Oncology Platform (LPRNO) and member of the Dutch Platform for Proton Therapy (LPPT) and the European Particle Therapy Network (EPTN) and other national and international organisations (e.g. NVRO, ESTRO-BTG, LWNO, DBTR, EANO, AWEC) she strives for consensus on standardisation and uniform data collection to allow for optimal selection and personalisation of patient treatments. She will continue focussing her research on particle therapy within the neuro-oncology, with special interest in cognition and epilepsy.
She is happily married with Erik Roelofs. They have two great children: Karsten & Imke.
Click on the images to view the full thesis, propositions and summary.